The problem with PC cooling fans is that there are plenty of options to choose from. This can make it difficult for the average user to identify the best RGB fans for their computer. The best thing about these fans, however, is that they come in a variety of sizes and colors (RGB). Ab
This means you can get ones which match your gaming rig's theme or style. While most people may think this doesn't matter, once you get used to seeing red LED lights on your case, it'll be hard going back to plain white or blue LEDs.
If you're looking for an easy way to cool down your PC while also adding some flair through lighting effects then check out our guide below! We've gone ahead and done all the research so that you don't have too! Our buying guide will help narrow down what type of fan is right for your needs while our reviews section will give insight into each product we recommend!
Choosing the Best RGB Fans?
Choosing the best fans can be a difficult task, especially if you're not sure what to look for. There are many things that you should consider before buying a new fan, and we'll go over them all in this guide.
The first thing to look at when purchasing a new fan is airflow. The more air it can move throughout your system, the better cooling performance it is capable of providing. PC fans should also help minimize the noise they make while running, but that's easier said than done.
Another thing to consider before purchasing a new fan is noise level as well as color customization options with LED lights on them which are most common these days due to their eye-catching features and aesthetic appeal.
If you are on the hunt for a new fan, or multiple fans to add to your setup, then this guide is just what you need. We have the best 7 RGB fans listed out with everything there is to know about them so that you can make an informed purchasing decision on which one(s) will work best for your computer system.
7 Best RGB Fans in 2023 for PC Reviewed
Throughout here, we compiled a list of the best RGB fans for PC which commercially exist in 2023. It includes by delivering the outstanding maximum sound quality and amazing illumination choices without relinquishing quite enough air movement. We will go through the details of RGB fans which users always think about when purchasing.
Best RGB Case Fan – Thermaltake Riing Quad 120mm
Best CORSAIR RGB Fan – CORSAIR LL Series LL120
Best Budget RGB Fan – Cooler Master MF120
Best 200mm RGB Fan – Thermaltake Riing Plus 20
Best RGB Radiator Fan – NZXT AER RGB 2
Best Cheap RGB Fan – upHere RGB Series Case Fan
Honorable Mention – Corsair QL Series Ql-120 RGB
So, we have chosen those fans that really fit your 120mm, 140mm, and 200mm requirements. Let's have a look at some of the best choices out here!
Best RGB Case Fan – Thermaltake Riing Quad 120mm
120MM RGB FAN PICK
Review
The Thermaltake Riing RGB fans appear to be without a doubt the best in the list, and by a significant margin. They are producing best RGB case fans in the market. Such fans have enough airflow while also having the best RGB lights I've ever seen in a fan. The strong illumination is now given by neither two nor three RGB circles, resulting in four RGB circles!
Thermaltake Riing Quad has upgraded its fans and established it as very client-friendly by integrating a 9-pin USB connection unless the additional RGB loop was sufficient. Although the Corsair LL model is amazing, it comes with two connectors for each fan, one for the fan and the other for the RGB, which can get a little cluttered.
Depending on whether Thermaltake (TT) refers to it as the "RGB PLUS Ecosphere," such fans have various unique features. Users can link these fans to their smartphones and control the lighting styles, intensity, and fan speeds by simply saying 'Hey TT,' or turn them off altogether using instructions. You may even connect such fans to Amazon Alexa, which will display the current wind conditions in your area.
Although such fans, such as the Corsair LL model, have a significant mechanical joint for resistance reduction, the TT fans have a very low peak loudness of only 25 dBA.
Cellphones can be monitored.

You can use Amazon Alexa with it.

Connects to Razer Chroma.

RGB consists of four rings.

In comparison to other models on the market, it requires fewer wires.

Three-packs are available exclusively.
Our Verdict
These fans are only available as part of a three-pack. As a result, you'll almost certainly be able to invest the full cost per TT. They are well enough to justify the expense despite having so many functions and most of the best RGB illumination we've seen surrounding a fan. Thermaltake is putting in their hard-work to provide the best 120mm RGB fans in 2023.
Best CORSAIR RGB Fan – CORSAIR LL Series LL120
RGB PC FAN PICK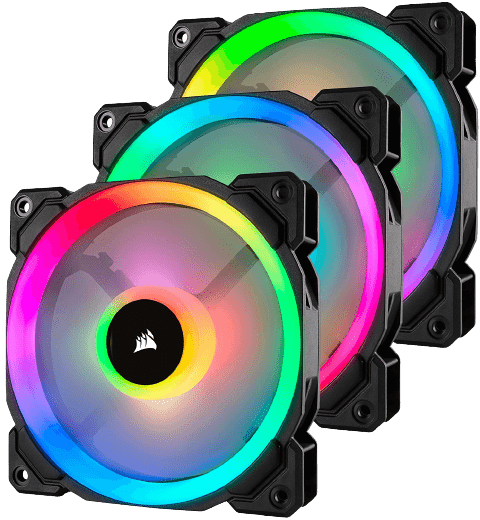 Review
As a result, while Corsair RGB fans don't have the highest airflow CFM, they do a fantastic job and wide pressure distribution. The majority of them are likely among the best RGB fans for PC systems, and they're great at pushing airflow past obstacles.
Two RGB looping's are included in Corsair fans. One from the outside, creating a stimulating image, and the other from the interior, illuminating the air vents with RGB lighting. The RGB looping has eight different illumination regions that can be changed with Corsair's iCUE application. You can use the application to modify your lamp sources to any compatible Corsair accessory.
| | |
| --- | --- |
| | |
| With such a high speed, vibrations are minimal. | Adding more charges for bright lighting. |
Our Verdict
These RGB fans are available in single, double, and triple packs in a number of combinations. The Corsair LL Series is now available in 120mm and 140mm diameters, giving customers more options when it comes to ventilation. They are making the best RGB PC fans for their die hard fans. Finally, the stylish fans look great in any setting, and you can be confident that they will help you meet your performance goals.
Best Budget RGB Fan – Cooler Master MF120
BUDGET RGB CASE FAN PICK
Review
Cooler Master is producing the best budget RGB fans in the market for a while now. The RGB design of Cooler Master MF120 is a bit simpler than Corsair's. Instead of the outer ring, the RGB design features only lighting within the blades instead. Though it's bright, and has smooth transitions, it still looks nice. If it's on sale, it'll usually cost you much less than $99 anyway.
You'll save a ton on cooling when you incorporate the fact that $1 fans cost only $20 each. How does this work? It's loud. Loud as hell. The MF120R is rated at 31 dBA by Cooler Master. MF120R kit was relatively quiet at 1200 RPM but totally unusable at 2000 RPM; it was the loudest fan we tested, louder than both NZXT RGB 2 and Noctua NF-A12x25. As far as airflow is concerned, the MF120Rs are tied with the Noctua NF-A12x25.
The potential for airflow is great.

The fan regulator is optional.

When you're speeding up, it's really loud.

Under that, it isn't quiet either.
Our Verdict
For typical gaming purposes, though, it's not practical to run them at that speed. For a fraction of Corsair's price, you get a full RGB setup and some pretty powerful fans. MF120Rs might be a good alternative if you limit them to 1200 or 1500 RPM.
Best 200mm RGB Fan – Thermaltake Riing Plus 20
200MM RGB CASE FAN PICK
Review
If we list down the best 200mm RGB case fans and we don't mention Thermaltake then we all know that the list is incomplete. Thermaltake is giving it's competitors a tough time by producing best 200m RGB fans in the market. Thermaltake's (TT) 200mm fans appear to be enormous and push a lot of air around the PC.
With a CFM of 117, the TT Riing Plus 20 fans seem to be excellent for use towards the top of a container. That isn't the quietest, but with a maximum volume of roughly 30 dBA, it's scarcely audible, and you'll benefit from large amounts of wind and Thermaltake's fantastic RGB lights.
Because Thermaltake provides the fan regulator, if you do not already have one, you can use the full fan in a variety of ways. Due to its unique fluid joint, which self-lubricates and complements engine conductivity, it minimizes resistance.
There is a great deal of breeze.

Even though it is large, it is peaceful.

The fan regulator is optional.

There have been no complaints about it so far.
Our Verdict
The TT operating system is fairly simple to set up, yet it gives you a vast selection of RGB options for the playoff. It also warns users to make adjustments to several issues, most notably the fan's processes. Finally, one very powerful fan is fantastic. It will give all of the air circulation customers may require while also lighting up their computer systems, making it a strong 200mm option.
Best RGB Radiator Fan – NZXT AER RGB 2
BUDGET RGB RADIATOR FAN PICK
Review
NZXT's designs are well-known, although they aren't exactly new to admirers. It's one of the best RGB radiator fans out their. This Aer fan has some of the highest CFM on the market and does a fantastic job blowing air about your setup while also lighting up. Each Aer fan has an airfoil edge that provides optimal air circulation, resulting in high CFM. These fans feature hydraulic flow springs for intimate performance.
On all of them, there is a single RGB loop, which is a little startling. The rounded corners, on the other hand, give it a wonderful aesthetic score. The lights on such fans are only effective if you have the remote or an NZXT I case, which is inconvenient for anyone trying to add even a single fan to the setup. With the HUE 2 illumination console, you can connect four or five fans and sequence the ultimate RGB lighting display effects.
The air is well circulated.

Reliability is excellent.

A program is required to turn it on.
Our Verdict
The Corsair LL series appears to be available as single fans, double packs, and triple packs, with only the HUE 2 console included in the single set. The NZXTs are available in 140mm as well, but only as a single or double set. Users may rest assured that NZXT produces high-quality products and the Aer's offer outstanding value for money.
Best Cheap RGB Fan – upHere RGB Series Case Fan
AFFORDABLE RGB FAN PICK
Review
The upHere RGB fan package is our less expensive option in the chart since this set of six fans has a lot of potentials to brighten up the overall appearance of any PC setup. upHere is known to have the best RGB cheap fans among all the brands providing affordable RGB case fans.
These are basic fans with a lower fit and finish than the preferred option, but that doesn't mean they're worthless. Such 120m fans produce only 17.6 DbA, which is quite low, and their high airflow capacity effectively cools the computer.
Those devices are fairly basic, so don't expect any software, but they come with a controller that lets you customize the colors and patterns to fit your entire arrangement.
A controller is included.

Five fans are included in the set.

A little dull compared to others.

It's difficult to understand CFM.

The quality isn't top-notch.
Our Verdict
The RGB fans incorporate fluid gear and rubber plates to reduce noise, making them an enticing option for consumers looking for high-volume ventilation at a reasonable cost.
Honorable Mention – Corsair QL Series Ql-120 RGB
AFFORDABLE RGB FAN PICK
Review
The Corsair QL Series is one of the best RGB fans on the market. You get your standard LED ring with eight colors that can be selected via the included controller. The LEDs are really bright and it's very easy to get your favorite color. There are three levels of brightness for the LEDs, which is a nice feature if you're trying to save some power by going to a lower level of brightness for whatever reason.
This fan also uses a series of different controller settings that allow you to customize the behavior in a number of ways. You can set it to pulse in whatever color pattern you choose, or just let it cycle through the colors without any pattern being imposed. There's also a mode where it will cycle through the colors; however, it only does that every time you turn your computer on.
The Corsair QL is also built with a low-noise motor for silent operation and each of the inner blades has been aerodynamically designed to allow for maximum airflow. This fan offers excellent performance and an incredibly sleek design that is sure to enhance the look of any case.
Our Verdict
Overall, the Corsair QL Series is one of the decent RGB fan on the market. It's easy to install, provides some excellent features that allow you plenty of control over your color settings, and is built with all aluminum housing that ensures it will last for years to come.
Tips for Best RGB Case Fans for PC in 2023
Computing is an intensive activity. Enthusiast gamers need high power to maintain the desired performance level of your game. This will promote a better experience and produce less lag as you play. Gaming PC case has many benefits, including increasing the space for more hardware, upgrading, and improving cooling efficiency by up to 30% or more.
Layout The Fan Way Up Top And Out Of Your Case's Flow Of Air: Keep them positioned at least a few inches away from other components in order to achieve their full potential airflow velocity with minimal turbulence.
Use Cable Ties To Make Rings Through Your Case: Installing your fans following this pattern can create a cyclone that helps to displace the warm air inside your case.
Research Your Fan's Air Pressure And CFM: Air pressure is how dense an object can be packed together, and the height of the fan blades themselves. This can help to determine whether or not you need high air pressure for an event like gaming or low air pressure for low-noise application.
Choose A Quiet Fan Or A High Speed Fan: Knowing the difference between airflow and noise will help you to acquire the desired fan for your application.
Opt For High-Quality Materials: Rubber bearings are longer lasting than sleeve or metal bearings, so consider this when planning your purchase.
Know Your Fan's CFM And Noise Level First To Find The Best RGB Fans For You: Having a good idea of the airflow and noise level required for your application, as well as knowing which type of fan you need will help you to choose the best RGB case fans for your computer.
Look For Fans With Aluminum Or Other Heat-Resistant Fan Blades: A fan's blade should do more than just look good – it should also be able to resist heat.
Research Your Fan's Bearing Type: Sleeve, ball, or hydro dynamic bearings are the most common bearing types for fan blades. Knowing which type of bearing is better for your application will help you make a proper decision when buying your RGB case fans.
Buying Guide for the Best RGB Fans in 2023
You're looking to buy an RGB fan but you don't know which one is the best. The problem with buying an RGB fan is that there are so many different brands and models out there, it can be hard to know which ones are the best. That's why we created this guide!
Our goal was to make sure that anyone who buys an RGB fan doesn't have to go through hours of research. So if you're short on time and just want the best, read our guide below!
1. What are RGB fans?
These are a type of fan that use a light system to change the colors of the fan blades. RGB fans also have a slight glow around them.
First, you want to make sure you have the right kind of fan before going out and buying one. You want to make sure that it can handle all the component cooling needs for your PC.
If you aren't sure about this, then read our buying guide. As for the RGB fans themselves, there are plenty of options out there right now.
2. Why should I get an RGB fan?
An RGB fan has many benefits and the best RGB fans will allow you to change their colors and brightness. RGB fans also can keep your PC cool and help with airflow for your CPU.
When picking the best RGB fan you should match it to your computer case. You also want to make sure that all of your fans are matching so you can get a really cool result from them.
3. Do these products come with a warranty?
If you're worried about how long your fan will last, there are several top models that come with warranties. If your fan breaks, you can send it back and get a new one!
4. When should I use my RGB fan?
The first thing you need to do is to identify what your goal is. You'll need to determine whether you want something for upgrading the look of your PC, or if you're trying to keep it cool.
The answer will dictate which type of RGB fan you need. If you're just upgrading the look of your PC, then a high quality LED fan might be enough to suffice. However, if you want something that's going to cool down your PC as well as upgrade its look, then an RGB fan with high static pressure would better suit your needs.
5. How do you set up an RGB fan?
The simplest way to set up an RGB fan is the following:
Choose your desired wavelength, color, and speed.
Plug in the power supply into the system that you want to power.
Plug in the RGB controller into a USB port on that same system.
Connect your PC's graphics card to the controller by plugging in one of the six cables included with it into each of them. As for which port you use on your graphics card, any will do. For best results though, you'll want to use DVI ports.
That's it! All of your fans will now light up in unison whenever you press any key on your keyboard or when they sense movement in the room.
6. Is there anything else to keep in mind when buying an RGB Fan?
If you're a first-time buyer of RGB fans, you'll first want to figure out what type of fan you want. There are three types of RGB fans: LED strip, four-pin DC plug, and three-pin DC plug.
LED strip RGB fans are for those who want a more subtle look, but they're also more expensive. Four-pin DC plug RGB fans are the ones that most people use because they offer a wider range of colors and brightness levels for each color slot. Three-pin DC plug RGB fans cost the least but also feature a more limited set of colors and brightness levels per color slot. We recommend going with the four-pin DC plug RGB fan if you have a budget around $20.
Another thing to keep in mind when buying an RGB fan is that the size of the fan matters a lot! For example, if you're going to be putting one at the back of your PC case, you'll want a thin 120mm x 25mm fan. If you plan on getting a thicker 120mm x 30mm or 140mm x 25mm fan, you should be prepared to have a hard time finding places to put them in your case.
And finally, make sure that the RGB fan you get is compatible with all of the components inside your PC case. For example, if you're using an MSI motherboard and want to plug your RGB fans into it via USB, make sure that the RGB fans you want support MSI motherboards! There are tons of RGB fans out there, so be mindful.
In the following, we've selected some of our favorite fans and have noted some of the things that make them stand out. Furthermore, we have a selection of the best low profile CPU coolers available.
Conclusion – Which RGB Fan is Best for You?
This was our in-depth knowledge sharing for the top products of RGB fans. We hope this guide will assist you better in selecting the best RGB fan for your need.
Frequently Asked Questions
Is it possible to plug RGB fans into the motherboard?
If your motherboard has RGB fans, they can be connected. It's just a matter of making sure the motherboard is RGB-capable. After you ensure your motherboard (or the one you want to buy) will support RGB, you'll be able to choose from a range of RGB fans including both 3 pin and four pin options.
Additionally, no matter how neon or RGB your RGB fans are (on three-pin LED, four-pin LED, or RGB fans without headers), there are a few safety precautions you need to take to ensure they are installed correctly into the motherboard, including:
Avoiding any form of fluid contact with RGB fans, as fluids may damage their hardware and render them inoperable.
Avoiding contact with the RGB fans.
If you place the RGB fans close to other machines, which can cause them to become overheated, keep them away from those areas.
Are 140mm fans better than 120mm?
It's not a secret that PC cases produce a lot of heat (especially those with heavy hardware fillings) whether you build them for fun or you prefer to game in your spare time. Therefore, in order to prevent overheating, it is essential to provide cooling. The question is whether 140mm or 120mm is better?
Most often, the 120mm fan case will work well for users with heavy workloads and will be pretty quiet if used with heavy workloads. Despite this, with 140mm fans the system runs a little more efficiently and with a quiet workflow. The 140mm fans are capable of supplying a little extra power, which means that the system runs more efficiently. If you are currently faced with this dilemma, here are some things you should consider if you are using three 120mm fans or two 140mm fans.
You would gain lots of air pressure if you were to go with three 120mm fans, but this would come at the price of high power consumption and loud operation. Compared to the 120mm fans, the two 140mm fans would be somewhat more efficient and much quieter. Nevertheless, there will be a very slight difference in cost between the two, so it's important to consider that before determining the best value.
Do RGB fans need RGB headers?
PC components such as the motherboard are connected to RGB fans through RGB headers. A RGB fan can be wired to the rest of the system with only either a 3 pin or 4 pin connector. Certain RGB fans on the market do not come with these types of connectors, so they must be connected to the motherboard by way of the RGB headers built into the motherboards. When buying RGB fans that include their own connectors, you will be able to overcome this problem if your motherboard doesn't have RGB headers.
Are RGB fans loud?
It depends greatly on the size and quality of an RGB fan how loud it will be. Lighting systems have no impact on the decibel level of fans, since they simply use light as a source of illumination. Lighting does not make a fan any less loud. It is true that most RGB fans are quiet, but they can become noisier when facing heavier workloads.
What's the difference between ARGB and RGB?
In fact, despite the fact that RGB is more technical than ARGB, the two formats really serve the same function and they have been designed to serve it at the same time. The only real difference is that ARGB is a slightly more sophisticated version of the two. In the past few years we have seen a dramatic increase in LED RGB technology, which was coupled with the introduction of Arc-Red-Green-Blue.
It is important to note that ARGB technology, unlike RGB technology, can display multiple colors at once, rather than one colour at a time. Therefore, ARGB fans provide a wide range of customization options, and in contrast to RGB fans that can only be one color, ARGB fans can offer a wide range of customization options and allow you to customise your motherboard even more.
Why are Corsair RGB fans so expensive?
It is mainly because Corsair RGB fans are considered to be premium products that account for their high price tag.
Furthermore, another reason for the high prices of Corsair RGB fans is their use of incredibly high quality raw materials. This has negatively impacted the cost of Corsair's manufacturing process, which in turn had a significant impact in the final price they set.
Is a higher CFM better?
In order to determine whether a new RGB fan is suitable, the CFM should be considered. CFM, or cubic feet per minute, is the unit of measurement for airflow from a fan. CFM provides an indication of how much air the fan will have the ability to circulate in a minute when you are shopping for a new RGB case fan. RGB fans perform better overall when they have a higher CFM level.
How do I know if my motherboard supports RGB?
You shouldn't panic if you are trying to determine whether your motherboard can support RGB; it almost certainly does! As a matter of fact, the process is incredibly easy. Please refer to the instructions included with your motherboard when you purchased it to learn how to do this.
In order to determine whether or not your motherboard supports RGB, you must start by looking at the RGB section of your motherboard and discovering what type of headers it has.
Do RGB fans need SATA?
If you need a SATA cable for your RGB fan, it depends on the type of fan you bought. As an example, some RGB fans are designed to only need one cable, while others are designed to require a RGB hub, and some RGB fans are designed to only require a controller in addition to the single cable.
If you are thinking of purchasing a RGB (or you already know that you will purchase one), it is really easier to determine if it needs a SATA cable connection by checking the information that the manufacturer supplies on their website; this will tell you what connectivity components it requires.
The RGB cables of Corsair RGB fans, for example, need to be plugged into an RGB hub, then the RGB hub must be plugged into the Lighting Node Pro, then the Lighting Node Pro must be connected to the rest of the system with a USB and SATA cable.
How much power do RGB fans use?
Fans on RGB controllers are not capable of drawing significantly more power then the fans on a standard case, which is around 0.11amps. RGB fans use power to light up the LEDs, which is obtained from the rotation of the fan, so it is smart to check the label/manufacturer manual for the specific amperage that the RGB fans will use during operation.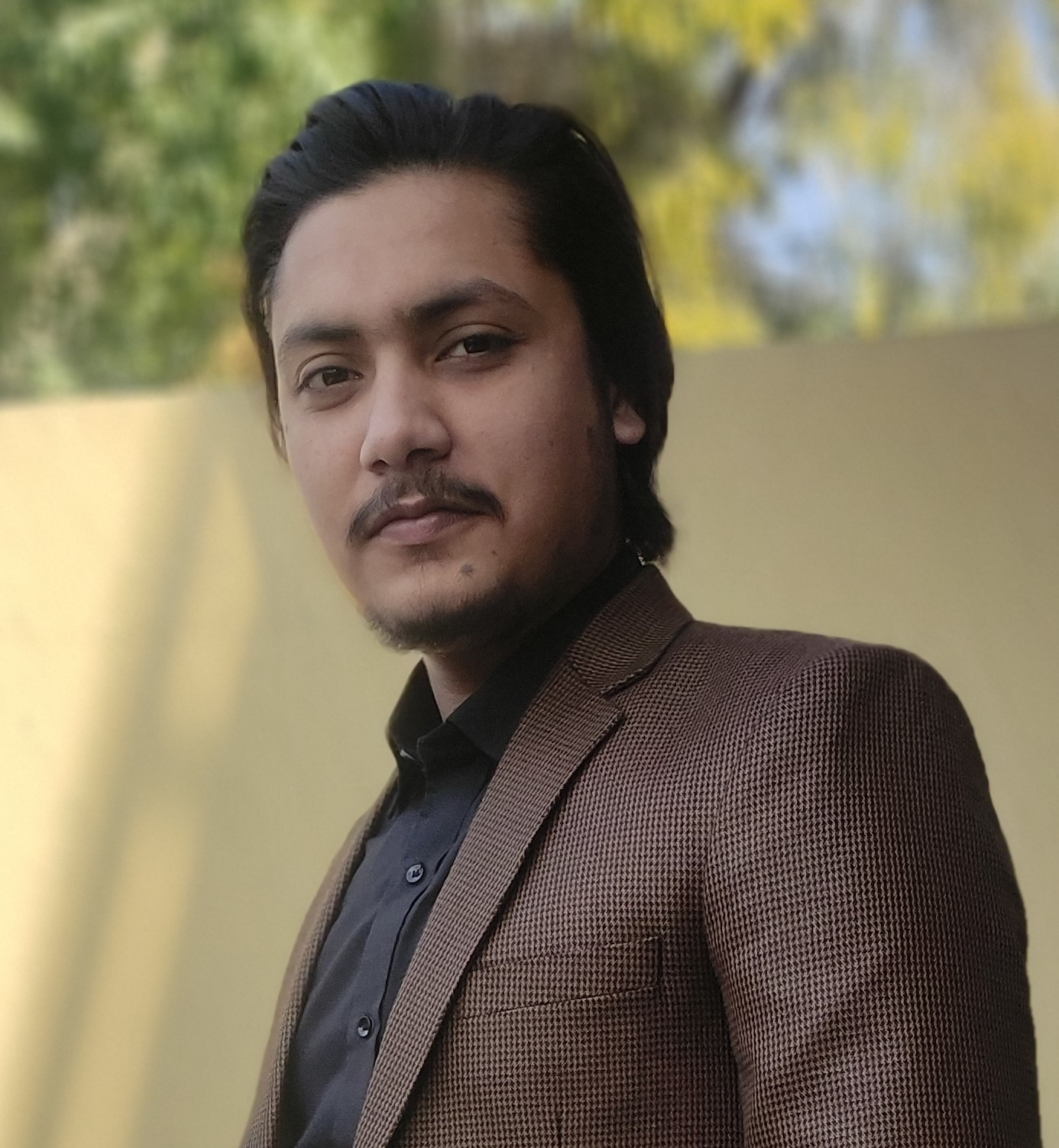 M Hamza Malik is a writer, blogger, and engineer who loves to create, write, and share his insights about computers, products, and technology. Hamza has spent the last years reading books, tech, and computers, which brings him to writing, giving his character a spark! Therefore, PCFIED is where he started his journey professionally.